Talking on the phone and/or referring to paper while at the computer tends to promote awkward postures. See below for helpful hints on positioning your phone and paper documents.
Cradling phone
Image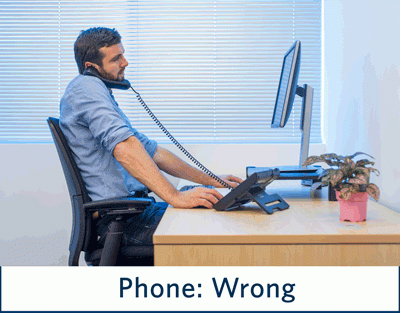 The rotating picture above demonstrates cradling of phone between ear and shoulder as compared to correct positioning with phone.
Risks:
If prolonged/frequent results in neck/shoulder strain.
Fix It:
Position phone on your left (place phone opposite to your mouse so that your one hand is free to hold the phone and the other is free to operate the mouse or write notes).
If possible, use speaker phone.
If prolonged/frequent calls, consider obtaining a headset.
---
Paper documents
Prop up paper documents between the keyboard and monitor (it's easier to read paper documents on an angle).
Use a document holder, either positioned between the keyboard and monitor or next to the monitor.