Do you want a quick way to see how you are doing in key areas of your life such as physical, financial, mental and social health? Take a two-minute assessment with UBC's Employee and Family Assistance Program (EFAP) provider LifeWorks. 
The Total Wellbeing Assessment is a set of questionnaires where you will be given a score to assess your health. Your answers will then automatically generate suggestions for positive lifestyle changes with data-driven, personalized recommendations, articles, videos, tips, exercises and resources – all based on your assessments' results. 
How to access the Total Wellbeing Assessments 
Log in with the Company Code: ubc 

You will then be redirected to a CWL page. Enter your login name, password, and multi-factor authentication as you normally would 

You will now be on the LifeWorks homepage: click on Start an Assessment.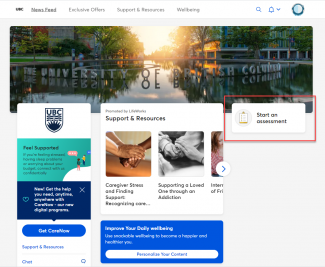 Find out more about LifeWorks
LifeWorks is a confidential and voluntary counselling and support service that provides you and your family with the help you need to resolve a wide range of personal, work, health or life issues; learn more about LifeWorks.
Tagged
Benefits FYI

HR Network News

Healthy UBC
---