UBC's favourite workplace funding program is back for a special Fall round! 
Applications are now being accepted for the Healthy Workplace Initiatives Program (HWIP) until 4 p.m. on Monday, November 7, 2022. Units and departments can access up to $3000 of HWIP funding for various health initiatives to create and maintain healthy work environments. 
Guided by the Focus on People (FoP) Framework, Strategy 1: "To develop a sustainable, healthy workplace", you and your unit/department can access funding for programs relating to mental health, arts, healthy eating and nutrition – to name a few. The fund can then be used to develop a program to support healthy workplace initiatives and share examples of good practices.  
To date, the program has funded over 400grassroots initiatives, including stretching classes, health challenges, and creative activities. 
Some of the initiatives from previous years include: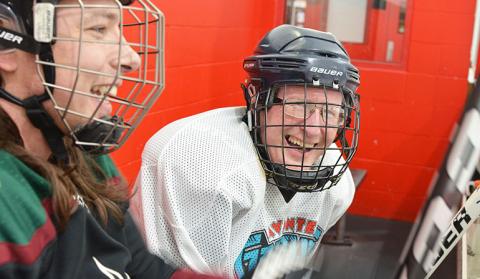 The Student Experience Office laces up their skates 
The Student Experience Office at UBCO decided to use the HWIP funding to secure four ice times at the Ultimate Training Rink and take their team out on the ice for an unforgettable experience. 
Check out their story here: Ultimate Training Rink 
A healthier meal with School of Nursing's Lunch club 
The Lunch Club meets once a month and has hosted potlucks, introduced the new Canada Food Guide and compiled a collection of recipes to create a cookbook. It focuses on healthy eating, combined with opportunities for connection and community building over lunch.  
The Aquatic Center takes on a team health challenge 
The challenge included individual and group activities and targets for hydration, sleep, healthy eating, mindfulness, physical activity, and aquatic activity. Team members self-tracked reported, and earned points for their progress and both individuals and teams were awarded wellness-related prizes such as cookbooks, resistance bands, and water bottles, that could be used to maintain healthy habits. 
Now it's your turn 
Have a great idea? Want to boost team-building and the health of your colleagues? It's easy to apply and the benefits to your department or unit can be far-reaching. The deadline for applications is Monday, November 7, 2022, at 4 p.m. 
Full details, including regulations, funding toolkits, and the application form can be found on the HWIP page. 
---