Discover the opportunities and support available for faculty, staff and student employees. Be part of something great everywhere we research, teach and work.
Explore Human Resources
Review resources and updates for working at UBC during COVID-19.
Congratulations to the 18 staff recipients of the 2021 President's Service Awards for Excellence and the President's Staff Awards.
UBC is developing an institutional plan for remote work. Learn about the objectives, principles, and guidelines.
UBC has consistently been recognized as one of BC's top employers, and one of Canada's greenest employers, best diversity employers, and top employers for young people.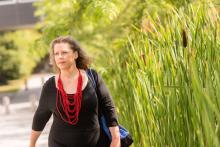 Learn how you can support faculty and staff to realize their potential, make sure they feel included and valued, and have the resources to do their work.
Explore how the university intends to be a first-choice place for faculty and staff to meet their greatest potential.