There is a general perception that a healthy plate is always plant-based and consists of lots of greens and salads or neatly packed food in glass containers for consumption throughout the week.
While that might be a good example of healthy eating for some of us, it is also a narrow definition of healthy eating. It carries the implication that other cultures' foods and habits are not healthy because they do not fit what the media and mainstream nutrition advice have deemed to be healthy eating. Healthy eating is different for everyone and depends on culture and environment, dietary restrictions, religious beliefs, food preferences, and many more aspects.  
Coming from a Ghanaian background, the way I ate growing up was different from mainstream nutrition advice. Healthy eating to me is a family meal that my grandmother makes with fresh produce from the local market. We all sit together and eat with our hands from a large pot. My favorite meal is made from mashed plantains, salted smoked fish, local herbs and spices, and topped with roasted peanuts. Think about your favorite meal and what healthy eating means to you. Is it only about the food? For me, it's much more than just the food – it's the coming together for a meal.
Food that we eat and the ways we gather together for a meal, may look different from one person/family to another, but the role of food in our lives does not change: it nourishes us physically, mentally, spiritually and culturally.
Image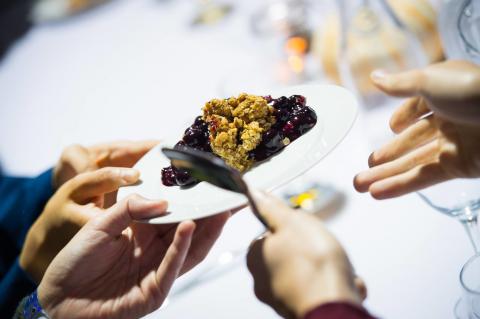 During this month of nutrition, I encourage you to celebrate your own unique food culture and explore that of others.
Keep safe and well,
Truelove
---