Set up your hybrid team for success. Understand the key considerations and access resources for leaders.
Whether working on campus or remotely, collectively we make UBC an inspiring place for students to learn, as well as for faculty and staff to research, teach and work.
Hybrid work arrangements must follow the hybrid work program objectives, principles, guidelines and considerations. As a leader, you are expected to decide if hybrid work arrangements are suitable for your interested employees and your broader team.
Steps for creating a hybrid work arrangement
If you have staff who wish to participate in the hybrid work program, follow these steps to determine an appropriate plan for your unit.
Familiarize yourself with the guidelines, and have individual conversations with employees who wish to participate in the program.

Before agreeing to any hybrid work arrangements, u

se the decision-making resources below. Contact your Senior HR Leader if you require additional decision-making support. 

Draft a team schedule and share the team schedule with employees in your unit to receive any further feedback.

Have eligible employees complete the request for a Hybrid Work Agreement in Workday.
Decision-making resources and tips
When determining whether an individual position or role is suitable for hybrid work, use the following decision-making resources and tips.
Setting up a hybrid work agreement
The hybrid work program requires a formal agreement between a supervisor and a staff member who reports to them. The agreement ensures that the university is meeting all obligations under WorkSafeBC, and that both supervisors and employees are considering all aspects of a hybrid work arrangement.
First, staff should review the hybrid work guidelines as well as the hybrid work information for staff before expressing interest in a hybrid work arrangement. At the same time, leaders need to consider the hybrid work guidelines along with the information on this page for leaders. 
After reviewing all the materials, have an informed conversation together with your employee. As a manager, you will decide if a hybrid work arrangement is suitable. 
Draft a team schedule and share the team schedule with employees in your unit to receive any further feedback.
Have eligible employees complete the request for a Hybrid Work Agreement in Workday. Instructions are available in the Knowledge Base article Hybrid Work Request Form. Note that your employee will also be expected to fill out the Work Area Safety Assessment (available from the UBC Safety and Risk Services website) and have this signed by their manager and submitted in Workday. 
Monitor and evaluate the hybrid work arrangements that you and employees in your unit have agreed to. Use the decision-making tools above to conduct your evaluation and ensure you consult with your employees through any evaluation process.
Leading and supporting your team
Cultivating an inclusive, connected and effective team is an important part of the hybrid work program. Review the resources below to support you as a leader day-to-day.
Image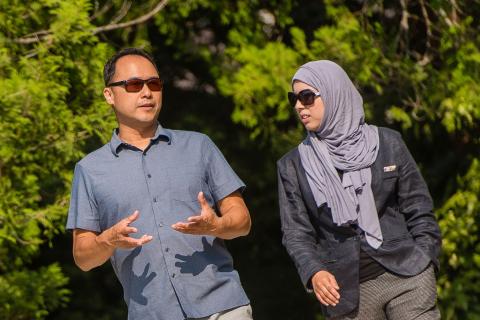 Mental Health Support
Be proactive in supporting your mental health and resilience, as well as the mental health and resilience of your direct reports and teams.
Image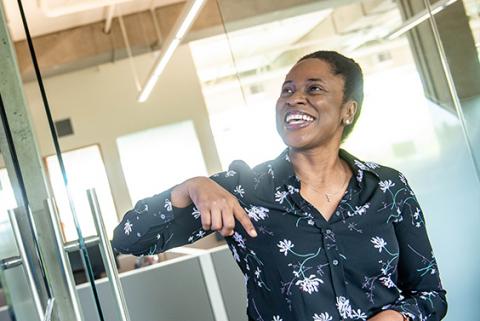 Learning resources
Explore specifically created and curated learning topics designed for leaders related to hybrid work.
Image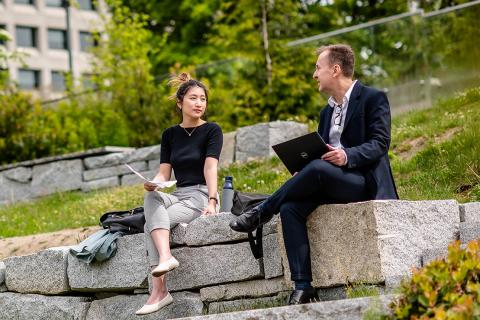 Inclusive recruiting
Support inclusive recruitment for faculty, staff, and student employees, and increase diversity in the workforce. 
Image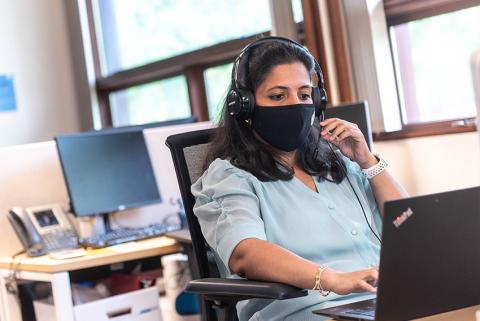 Remote onboarding
Onboarding can vary across portfolios and departments and units, use these checklists when onboarding new hires in a hybrid work environment. 
Considerations and tips for hybrid teams
Reviewing, changing, or ending a hybrid work arrangement
Sometimes hybrid work arrangements will need to be reviewed, changed, or come to an end. Where changes are required, it is preferable for either a supervisor or an employee to provide notice in advance of ending the arrangement. If an employee wishes to increase or decrease the hours of remote work, it will be up to you to determine whether the request meets the guidelines and your operational needs. Appropriate notice must be provided by an employee or a supervisor who wish to end the arrangement. Normally this notice would be two weeks, to allow enough time to arrange for employees to be in the workplace on an increased or full-time basis. The notice period can be amended based on mutual agreement and operational considerations.